September 23, 2019
Recent Result
Éire Óg 6-9 St Clarets 2-17
A hat-trick from Westmeath marksman John Coyle helped Eire Og to the Division 3 League title on Sunday last in McGovern Park, Ruislip.
The first half started evenly with both teams getting on the scoreboard very early. A goal from the penalty spot by Joe MacMahon put Eire Og in the lead before Coyle's first goal extended it to a 5 point advantage at half time.
St Clarets got off to a whirlwind start with the wind at their backs in the second half. The west London team rattled off 1-7 without reply before goals from Gabriel Dennehy and Ger Crowley put Eire Og into the lead. The lead lasted all of 30 seconds when the St Clarets wing forward netted. St Clarets added on 2 quick points to double their lead. It is from here that Eire Og began to take over and outscored their opponents by 2-3 to 0-1 in the final 8 minutes. John Coyle provided the goals to complete his hat trick whilst Steve Hyland, Eamonn Kelly and Caolan Conroy added the points.
Stephen O'Keeffe received the cup which prompted wild celebrations that extended to Finsbury Park for a great evening. The management and team would like to thank the large number of supporters who came to Ruislip to support the club & to the ever reliable Harry Murray for score updates & game footage!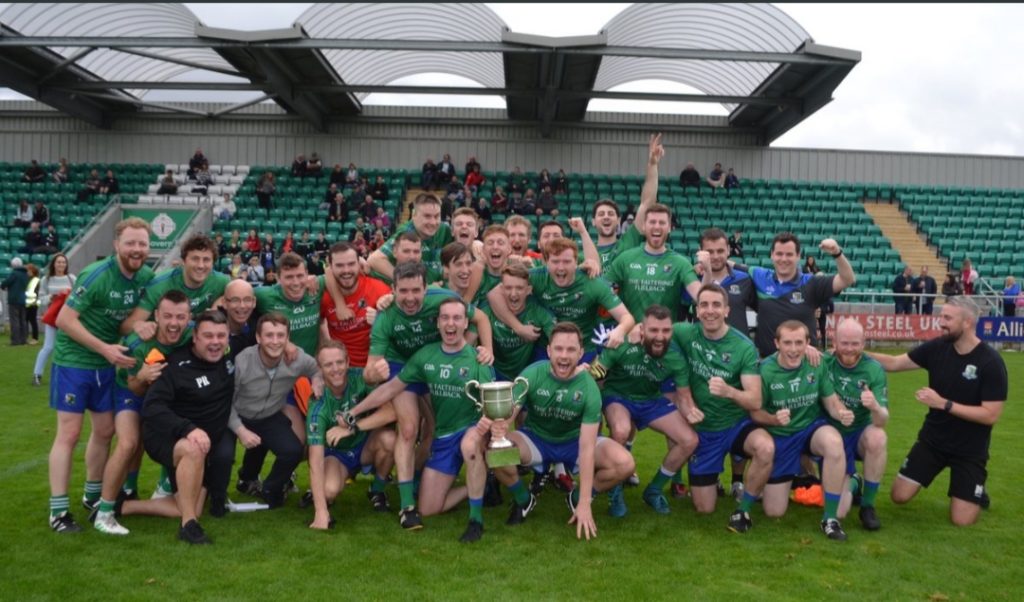 Winter Astro Football
During the break from the GAA season, we will be organising some 5 a side football over the winter. If you are interested in playing, please advise team management or any member of the Committee. If there's sufficient interest we will most likely look to play weekly matches at Park View School (beside Downhills Park).
Speedy Recovery
The club would like to wish Mike MacDonagh a speedy recovery from a finger injury he suffered in the semi final of the intermediate championship on September 15th.