April 16, 2018
Fixture
There is plenty of football in Downhills Park, N17 6AP this Saturday. We play Tara at 3.30pm The game will throw in at 3.30pm. Neasden Gaels versus Harlesden Harps throws in at 5pm both games are in the Murphy cup.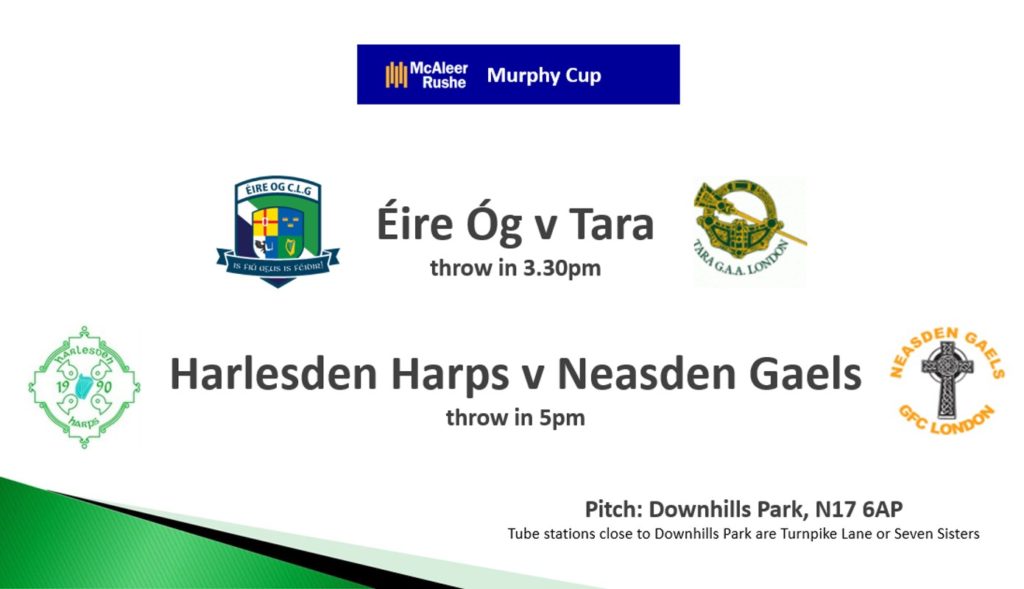 Fundraising
 Table Quiz 
The first fundraiser of the season will be on Saturday 28 April in the Sheephaven Bay pub Mornington Crescent.
Annual Golf Classic
The annual Golf Classic takes place on Saturday 23 June 2018 in Trent Park Golf & Country Club. If there are any companies/businesses out there who would like to get involved in sponsoring a hole or tee, please get in touch on the below contact number or contact either of our social media pages. For further details please contact: Nigel Drew 07785 792561.
Membership
Membership is now due for the 2018 year, membership fees are as follows;
Senior Players – £100
Student Members – £50
Non-playing members -£25
Families – £100 
New Players & Recruitment
New players are always very welcome to join our friendly club. We have two adult teams, Intermediate and Reserve. We are based in Haringey, North London; the club covers a wide area and current players live in many different areas across London, including, Islington, Angel, Finsbury Park, The City, Hackney, Shoreditch, Holloway, Camden and Tottenham. Transport to and from training and pick-up from stations can be arranged, if required. If you would like to join our club, please do not hesitate to contact us on Kerry O Donnell on 07216 98588. We would be delighted to hear from you.
Social Media
Remember to follow us on Facebook and Twitter where you can find daily updates, pictures, match reports and all activities going on at the club.